Avoid Getting Buried by Google in 2017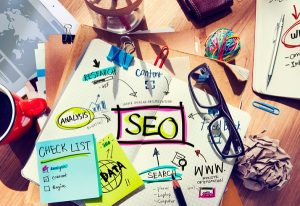 Most medical SEO firms get it wrong! There, we said it, and you need to know it if you want to your medical practice to avoid getting buried. Most firms that do SEO for medical and/or audiology practices are using outdated strategies that may have worked 10 years ago, but that Google pays little attention to in 2017.
Yes, online marketing can easily double the number of new patients you get this year — and double your revenue. But not if you get lost or dumped by Google. That's what's happening to more and more medical and audiology practices who aren't paying attention to Google's recent changes.
To see what we're talking about, pull up a browser and do a search for "hearing aids". What do you find? Here in Darien, Connecticut, I see 4 ads at the top of the search results page.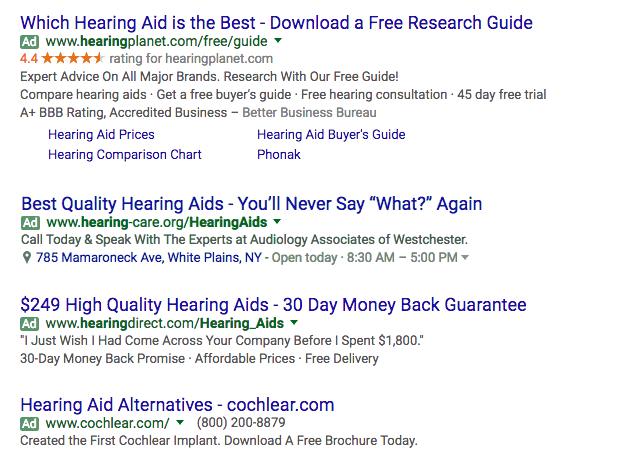 Right below the ads are Google's Local Listings.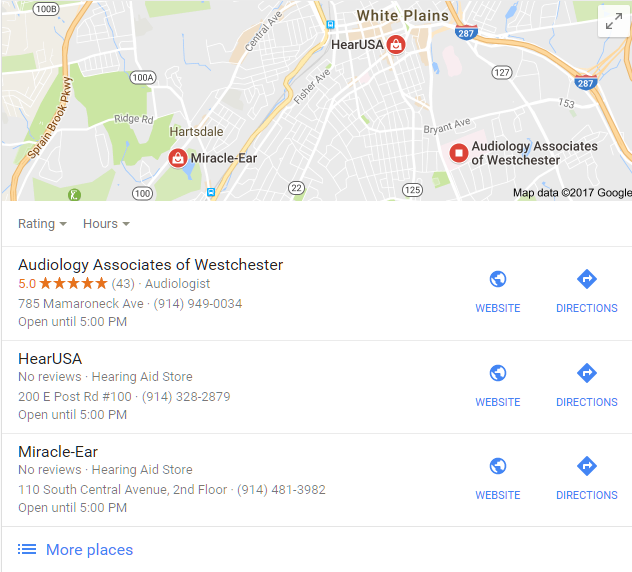 Finally, below the Local Listings are the organic listings of local practices.
If you're relying on traditional SEO services, there is a good chance that a patient would never find your listing. Since Google has changed where organic search results are displayed, the tactics that most SEO firms don't cut it any more. Using only the old ways puts your practice at risk.
Here's what you need to know about medical SEO to survive and prosper in 2017.
Strategy 1: On page keyword optimization
If this is all you're doing, you're going to be buried
For close to 20 years the search engines have ranked websites that include keywords in important places in the headlines, text and in the code, and penalized those that "stuff" their sites with keywords.
Twenty years ago, all you needed to do to land at the top of a search results page was to put your keywords, "dog food" or "hearing aids" or whatever in your title tag, description tag, page headline, secondary headings, and a few times in the body of your page text. If you did that well, your site would rank at the top of the page.
On-page keyword optimization is still essential, but now it's the equivalent of putting your name on your resume. To get the job, or in the case of your practice, the patient, you need to do more.
Too many SEO firms still sell on-page keyword optimization services as if that by itself will get results, when in most cases won't put you above your competition. Well that is unless you're the only practice in town and have zero competition, in which case you don't need SEO services to be found.
Strategy 2: PPC
Google puts your ad at the top of the page
In 2016 Google moved the small ads that used to show up on the right side of search results to above search results. They changed the layout of their search results page so that up to four ads show at the top and three ads show at the bottom, making paid ads the dominant part of the page. Your organic listing, if it's still on the first page, is harder and harder to find.
What does this shift mean for your practice's online marketing?
Yes, you guessed it. If you want to attract patients with online marketing and avoid losing them to your competitors, PPC advertising is essential. With PPC you can be in one of the top spots on the Google search results page.
Using PPC advertising can be a great way to attract patients, but beware of online marketing firms that try to con you into long term contracts, won't share how much they spend, or snow you with false data about total response. The only number that matters is your total PPC costs divided by the number of new patient calls you get.
Strategy 3: Local Listings
The #1 way to improve your local SEO
Reading the above paragraphs about PPC, you may have concluded that medical SEO is dead and PPC is the best way to attract new patients. You're partially right — Google has shifted the ads to the top of the page. But at the same time, Google is showing a list of three local businesses and a map (see above). Obviously you want your practice to be one of the three listed in this featured box. That could mean the difference between having your phone ring off the hook and search engine oblivion.
How can you get your website listed in that box and get found before your competitors? Improve your local listings score, something that most SEO firms completely ignore.
Here's where we tell you about the big benefit — and the big challenge — of local directories. There are dozens, if not hundreds, of local directories that "spider" the web and pick up business names, addresses and phone numbers. Sounds great, right? Free exposure!
The problem for you is that these directories don't verify that the information they find is correct, and they are sloppy. They make their money by selling ads, not listing every local business correctly. The information they have about your practice is often incorrect and inconsistent.
When Google itself spiders the web for your practice and finds it listed in 20 or 50 different ways, your local listing score suffers. A lower score hurts your chance of getting a top local listing on Google. You want to take steps to find out your review score and repair all these erroneous listings. Once you do that, Google sees your practice as credible and rewards you with a better ranking.
Strategy 4: Reviews
Online reviews boost your page ranking
Let's face it, in today's digital world we've replaced getting referrals by talking to friends and neighbors with reading online reviews. We're now experiencing a review economy.
Patients looking for a new physician or hearing aid specialist, are concerned first and foremost with finding someone they can trust. The first thing they look for in search results is scans is the practice with the most reviews and the best rating. Google does the same thing, rewarding top-rated practices with higher listings.
To establish your credibility quickly online, an automated system for collecting reviews is essential.
Strategy 5: Fresh Expert Content
Answering common patient questions matters to Google, too
When patients come to your website they are looking for answers to their questions, and you begin demonstrating your expertise by the content you provide on your site. More and more, Google is looking for answers, too. Google scans your site, looking for commonly used phrases and commonly asked questions.
If you want Google to give your site a top ranking and if you want patients to see you as the go to expert in your area, adding informative and educational blog posts to your web site is key. It makes sense if you think about it. Who would you pick as an accountant, the one with only basic sales information about their services, or the one with a monthly tip on how to cut your taxes?
A steady stream of expert articles on your blog will make you stand out as the local medical or audiology expert in your market. The challenge is finding someone to do it for you. Talk to us!
Want to avoid losing patients to your competition and having your site get buried on Google?
Talk to the medical marketing experts and we'll show you exactly what to do, to keep your practice growing.
Achieve more. Talk to us.